MOTHER OF DIVINE GRACE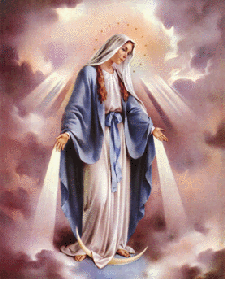 (1) MARY, you are the Mother of Divine Grace because God bestowed upon you the fullness of His graces even before your birth. Having destined you to be the Mother of His Son, He adorned you with privileges corresponding to that dignity. If John the Baptist was sanctified before his birth, how much more were you to be sanctified and filled with graces before your birth, since you were destined to be not only the forerunner of Jesus, but His Mother.
Because of your intimate union with Jesus as His Mother, and because of His tender love for you, the measure of grace which God gave you in the first instant of your life was greater than that which He imparted to the angels and saints, who were only His servants. In order to merit this fullness of grace for you, Jesus shed His precious blood.
(2) MARY, you continually increased in grace as long as you were on earth. You did so in a far greater measure than all the saints of God. Not defiled by original sin, and hence free of evil inclinations, you had no obstacle to overcome in the way of sanctity. There was no self-love or love of the world in your Immaculate Heart; you gave all your love to God and dedicated yourself entirely to Him. This love urged you to do whatever you knew was pleasing to God. Since every good work is rewarded by an increase of grace, who can tell how great was the number of graces which you acquired in your life-time?
Mother of Divine Grace, help me to treasure sanctifying grace more than all the goods of the world because it. enables me to possess God Himself by divine love; it makes me His child and an heir to His kingdom. Let me rather die than lose this grace by a willful mortal sin. If this should ever happen to me, help me to recover at once, by sincere contrition and penitence, the grace I have lost. And since every good work is meritorious in the sight of God, and increases sanctifying grace if done for the love of God, aid me in being zealous in doing good.
(3) MARY, you have conceived and brought forth Jesus Christ, "in whom are hidden all the treasures of wisdom and knowledge," and "in whom dwells all the fullness of the Godhead bodily" (Col. 2.3,9). You alone obtained the grace which was given to no other creature, namely, to be filled with God Himself, the Author of grace. Every saint has received graces to help save a certain number of souls, but you have received such a fullness of graces that, as Mediatrix of all graces, you were to cooperate in the salvation of the whole world.
Mother of Divine Grace, I have great confidence in you because God has made you the Mediatrix of all graces and Mother of Grace for the benefit of your children. Do not refuse my request when I ask you to help me to grow in the love of God to such an extent that I may reach that degree of holiness which God has destined for me.
PRAYER
O God, You gave the human race the grace of forgiveness through the virginal motherhood of the Blessed Virgin Mary; grant that we who call her the Mother of Grace on earth, may enjoy her happy presence forever in heaven. Through Christ our Lord. Amen. (Feast of the Virgin Mother of Grace, June 9)