QUEEN OF PEACE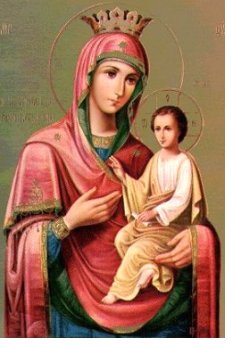 (1) MARY, you are the Queen of Peace because you brought Jesus, the King of Peace, into the world. At His birth angels sang in the heavens, "Glory to God in the highest, and peace on earth among men of good will" (Luke 2,14). You gave us the Savior of the world and the Prince of Peace, as the prophet had foretold; "A Child is born to us ... and His Name shall be called the Prince of Peace" (Isaias 9,6). By His death Jesus atoned for our sins and restored us to the peace of the friendship of God. He is truly a Peace-maker. Above all, at prayer and Holy Communion He leaves with us the peace of which He spoke at the Last Supper, "Peace I leave with you, my peace I give to you; not as the world gives do I give to you" (John 14,27).
(2) MARY, only after I have become like you, a lowly child, shall I have true peace in my soul and enter the kingdom of peace, for Jesus said, "Unless you turn and become like little children, you will not enter into the kingdom of heaven" (Matt. 18,4). I cannot enjoy the peace of your Son unless I conquer my pride and remain humble. I rely too much upon myself. I freely boast of the little good that is in me as if it were mine by personal merit, whereas, whatever good is in me really comes from God. My pride leads me into many sins and daily faults—sensitiveness, jealousy, rash judgment, uncharitableness and anger. And yet your Son says, "Blessed are the peacemakers, for they shall be called children of God" (Malt. 5,9). Humble Handmaid of the Lord, be my model and teacher of humility, that I may find true peace.
Queen of Peace, through you peace came into the world. Through you may peace come into my soul by bringing Jesus to me, especially by Holy Mass, Holy Communion, and prayer. May the power of His grace conquer my pride, and may His presence enable me to enjoy His peace and to spread it among others.
(3) MARY, you appeared as the Queen of Peace at Fatima There you assured us that if we would do penance and amend our lives, say the Rosary,* honor and consecrate ourselves to your Immaculate Heart, and receive Holy Communion in reparation to you on five First Saturdays, that you would protect us from the just punishments of God and that you would bring peace to the world. How earnest are your words! "If what I tell you is done, many souls will be saved and there will be peace... If my requests are granted, Russia will be converted and. there will be peace... In the end my Immaculate Heart will triumph and an era of peace will be conceded to humanity."
Queen of Peace, you are the only hope for true peace in the world today. May there be a sufficient number of people to fulfill your requests so that disaster may be averted, the mental and spiritual ills of mankind cured, and a lasting peace secured. Pray for us and give to the world the peace for which all peoples are longing, peace in the truth, justice, and charity of Christ. Give peace to the warring nations and to the souls of men, so that in the peace of order the kingdom of God may be victorious.
Extend your protection to the infidels and to all those still in the shadow of death; give them peace and grant that on them, too, may shine the sun of truth so that they may unite with us in proclaiming before the one and only Savior of the world: "Glory to God in the highest and peace among men of good will."
Behold with kindly eyes and crown with success the fatherly care with which the Sovereign Pontiff. the Vicar on earth of your Divine Son, continually seeks to call together and unite the nations in peace. Grant that in childlike submission to our common Father, we may carry out wholeheartedly his salutary directions. Enlighten the rulers of our country as to those same directions. Promote and maintain peace and concord in our families, peace in our hearts, and Christian charity throughout all the world.
Queen of Peace, obtain peace and complete freedom for the Holy Church of God. Stay the spreading flood of modern paganism; enkindle in the faithful the love of purity, the practice of the Christian life, and an apostolic zeal, so that the servants of God may increase in merit and number.
We consecrate ourselves to your Immaculate Heart that your love and patronage may hasten the triumph of the kingdom of God, and that all nations, at peace with one another and with God, may proclaim you blessed, and with you may raise their voice to resound in the chant of the everlasting "Magnificat" of praise, love, and gratitude to the Heart of Jesus, where alone they can find truth and peace.
PRAYER
May the kind intercession of Your Immaculate Mother and Ever-Virgin Mary aid us, O Lord, that having been continually blessed with her favors, we may be freed from all dangers and enjoy peace through her kind prayers. Who live and reign forever. Amen. (Feast of Mary, Mediatrix of All Graces, May 31)