Masters of the Spiritual Life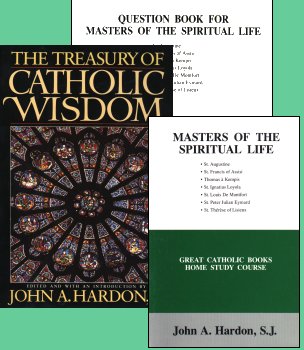 Study the spiritual giants
7 Lessons in:
St. Augustine
St. Francis of Assisi
Thomas a Kempis
St. Ignatius Loyola
St. Louis de Montfort
St. Peter Julian Eymard
St. Therese of Lisieux
0021 Masters of the Spiritual Life includes:
0022 Masters of the Spiritual Life Manual
0023 Masters Workbook
0024 Masters Answer Tablet
0025 Masters Information Packet
3521 Treasury of Catholic Wisdom
It is with great joy that I give my endorsement to the study course Masters of the Spiritual Life.
The lives and writings of a number of the great saints of our Catholic faith are presented in such a way that they may be easily used for a catechetical program. This study course is a treasure and guide for the knowledge of our faith and the richness and diversity of our tradition.
The lives and writings of the saints give us an insight into the logic and strength that gave them the power to make great decisions in their lives and influence our present world.
When we study the active and contemplative lives of the saints we are encouraged to seek the truth and to imitate the practical demands of love.
Most Rev. Alvaro Corrada, S.J., D.D.
Regional Bishop, Washington, D.C.
(Now Bishop of Tyler, TX)
Tuition: $50 US and Canada (U.S. funds please) Includes all materials, and test grading. To order the Masters Course for Two (for couples, or two members of the same household), add $15 and receive an additional Workbook and Answer Tablet. Other books are shared; testing and corrections are on an individual basis. $8.00 (Canada $19) shipping for each course.
Price: $50.00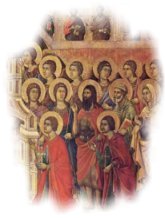 Click to view a sample lesson.
ORDER